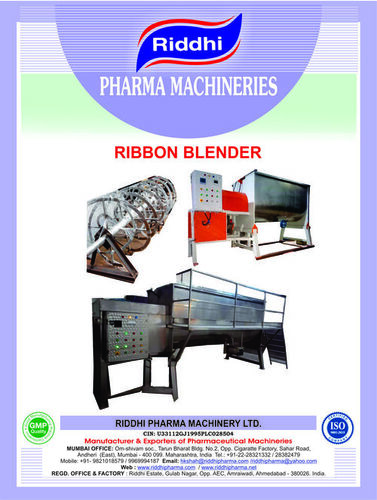 High Capacity Ribbon Blenders
Product Description
RIBBON BLENDER cum ROASTER
Ribbon Blenders a light duty blender mainly used for easy to mix powder components which are pre-processed like dried granules, pre-sieved powders etc. It is a low shear mixer and mostly used for solid/solid mixing. Solid / liquid mixing can also be achieved when high shearing force is not desired. It occupies less head room space for large volume mixing unlike Double Cone Blender , V Blenders etc.
Salient Features
Available in two shapes
U-for Low to Medium Volume capacity(Singel shaft).
W- for Large to Mega volume capacity (double shaft)
Batch size based on 70% of Blender Volume
Bearing mounted on lanterns out of Mixing zone to avoid contamination.
Feeding through a charging port mounted on the top of the blender
Reduced Material handling due to side discharge facility of processed materials.
Preferred for lubrication of granules in large quantities.
Dry Blending of capsule formulation.
Mixing of Cosmetic powders.
Capacity available 125 L to 5000 litres....
We are leading Manufacturer, Supplier & Exporters Spice Roasters. Spice Roaster is fabricated in U shaped sturdy body, having top cover centrally located and bottom discharge valve and with centrally mounted longitudinal shaft on which Spirals ribbons are mounted. Our specially designed spiral ribbons gives the best blending results due to three dimensional actions.

Thus every particle comes equally in contact with the heating zone and being roasted equally. Spice Roasters are available with options as per customer requirements, having Full Stainless Steel, OR with contact parts in Stainless Steel and Non contact parts in Mild Steel with Enamel / Epoxy paint.

In conventional Spice Roasters the heating is achieved through the Jacket filled with special purpose heating oil which is heated through Electrically operated oil immersed heaters. The heating temperature is controlled through digital temperature controller which can be achieved up to 250 Deg. C.

The production with conventional electrically heated roaster has been affected due to recent power crises, the cost of the generator power with high electrical load is defiantly not affordable. Considering these problems we had recently developed the Roasters with LPG (Gas) heating arrangements.

It has all that advantages which electrically operated roaster has such as Auto electronic operating, ignition, temperature controlling system etc. The heating temperature can be achieved easily in very short time up to 350 Deg. C., which is achieved with hot generated air circulated through specially designed heating jacket.
Contact Us
Riddhi Estate, Behind Manish Estate, Nr. Bhagirath Estate, Gulab Nagar, AEC Amraiwad, Ahmedabad, Gujarat, 380026, India
Phone :+918045478827