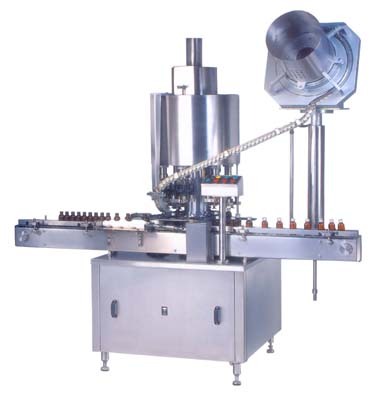 AUTOMATIC MULTIHEAD ROPP CAPPING MACHINE
Product Description
We are one of the recognized entities in this industry, engaged in manufacturing and supplying Automated Multihead Ropp Capping Machine. These machines are used widely in the industries for capping the packed bottles. Our offered capping machines are designed utilizing supreme quality of welded steel that is sourced from the authentic vendors of the market. The Automated Multihead Ropp Capping Machine is delivered at the client's end within the stipulated time frame.
Features:
Durable finishing
High capacity
Excellent sealing and capping

AUTOMATIC MULTIHEAD ROPP CAPPING MACHINE.- RARCS - 150
Automatic Ropp cap sealing machine is versatile, self supported on stainless steel leg with height adjustable adjustment system. The machine is precision built on sturdy welded steel frame completely enclose in stainless steel sheet and doors are providing to facilitate the servicing of machine.
OPERATION
The feed container moving on conveyor belt are feed into an in feed star wheel, bringing the container below the sealing head in the subsequent indexing part, mean while the bottle pickup a cap from the delivery chute of cap feeling bowl, where the body and the neck of the container are positioned below the rotating head, where the sealing head is performing perfect operation of threading & sealing.
Specially designed hopper is provided for more storage capacity, deliver cap to delivery chute with correct position that ensures the perfect position of the cap at the end of delivery chute.
The capping head rotate along with the main turrent and perform the capping operation.
TECHNICAL SPECIFICATION
Model RARCS-100 RARCS -150 RARCS -200
Output/Hour* 3600 to 6000 bottles. 3600 to 9000 bottles. 4000 to 12000 bottles.
Direction of movement Left to Right
Number of head/syringes 4 Nos. 6 Nos. 8 Nos.
Electrical Main Motor 1.5 HP/415 Volts50 Hz. " 2 HP/415Volts50 Hz.
Specification
Cap Feeding Bowl 0.25 HP/415 Volts/50Hz. " 0.25HP/415 Volts/50Hz.
Height of Conveyor** 860mm to 910mm " "
Adjustable
Machine Dimension** 2135mm (L) x 1120mm 2135mm(L)x1200mm
(w)x 2250mm (H) Appr. " (w) x 2250mm (H) Appr.
Case Dimensions 2650mm (L) x 1250mm 2650mm (L) x 1320mm
(w)x2250mm (H) (w) x 2250mm (H) Appr.
Net Weight 900 Kgs. ". 1250Kgs.
Gross Weight 1250Kgs. 1300 Kgs. 1550 Kgs.
Change Parts required (A) Container: Star Wheel, Centre guide, Feed Worm.
(B) Cap: Die, Delivery Chute, Bowl.
Input Specification
Input Specification
ROPP Cap Diameter** 19mm to 38mm**
Specification Height** 15 to 18.3mm
Round Shape (A) dia.22 mm to dia. 100mm***
(B) Height 58mm to 240mm*** (Height option Other bottle height available)
Container Size*
Flat / Square (A) 15 mm to 100 mm (length)
(B) 10mm to 50mm (Width)
(C) 58mm x 240mm (Height)
Other bottle height available)
Contact Us
Riddhi Estate, Behind Manish Estate, Nr. Bhagirath Estate, Gulab Nagar, AEC Amraiwad, Ahmedabad, Gujarat, 380026, India
Phone :+918045478827