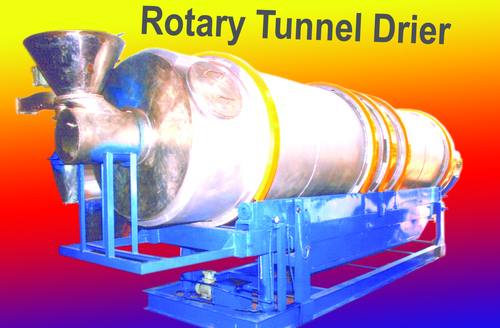 Product Description
ROTARY TUNNEL DRIER
General Advantages:
Can operate either as batch type or continous type drier

Operates at low power – Maximum of 5 Hp

Drying time around 25% of that of Tray Drier – saves production time

Temperature can be positively controlled anywhere between 35 to 200 degree C

Very economical – Material cost be controlled as instead of SS shell, M.S. Shell with SS lining can be used.

Totally contained system – evaporated fumes can be directed to the desired position.

Product can be cooled before discharging

- Time saving as product can be directly send for packing.
Uses :
· For free flowing non-hygroscopic powder, crystalling material, granular material, grains and any agricultural product.
Design Aspects:
Total Volume : 400 to 50,000 Ltrs.
Working Volume : 100 to 12,500 Ltrs.
Chamber dimensions : 600 to 1500 mm. Dia x 3 to 50 Mtr. L
Output Speed : <=1RPM
Motor Hp : 5 HP Max.
MOC : M.S., SS 304, SS 316, SS Lined, PVDF coated
Drying Time : 1 to 3 Hrs. (batch process)
100 Kgs. To 1000 Kgs. / Hr. (continuous process)
Drying Temperature : 35 to 2000 C
Heating : Hot water / Gas / Wood / Electric
Parameters to Control Rate of Drying :
· Heating fluid temperature
· Slope of drier
· Speed of drier
· Airflow in drier
Contact Us
Om-shivam Soc., Tarun Bharat Bldg. No.2, Opp. Cigaratte Factory, Sahar Road, Andheri (East), Mumbai, Maharashtra, 400099, India
Phone :+918068090595